This shop has been compensated by Collective Bias, Inc. and its advertiser. All opinions are mine alone. #WhatFuelsRight #CollectiveBias
You guys, it has been a hot minute since Mom last let me take over her blog! Pippa here, and I'm back with my favorite brand of food, Purina®, specifically Purina® Beyond Natural Indoor Cat Food, helping Mom and Dad walk through the next phase of their life. See, I'm well aware of the fact that soon I won't be the only little one who gets all their love. And I think it's my responsibility to make sure they are as equip for that as possible. A new baby means a world of changes for a family! Some are more behavioral, but some become a way of life, such as switching food to healthier options and actually knowing whats in your food. I figured if I could get Mom on board with Purina® Beyond, she'd be more aware of the decisions she makes for all food in her life, not just mine!
Mom gets my Purina® Beyond Natural Indoor and Simple Origins Cat Food from PetSmart, which has the widest variety of tasty Purina® products at the best prices. However, we're helping you out over here (because everyone knows all new parents can use a hand!) and have made this image below shoppable! Just click on my Grain Free, Salmon, Egg & Sweet Potato food below to shop it!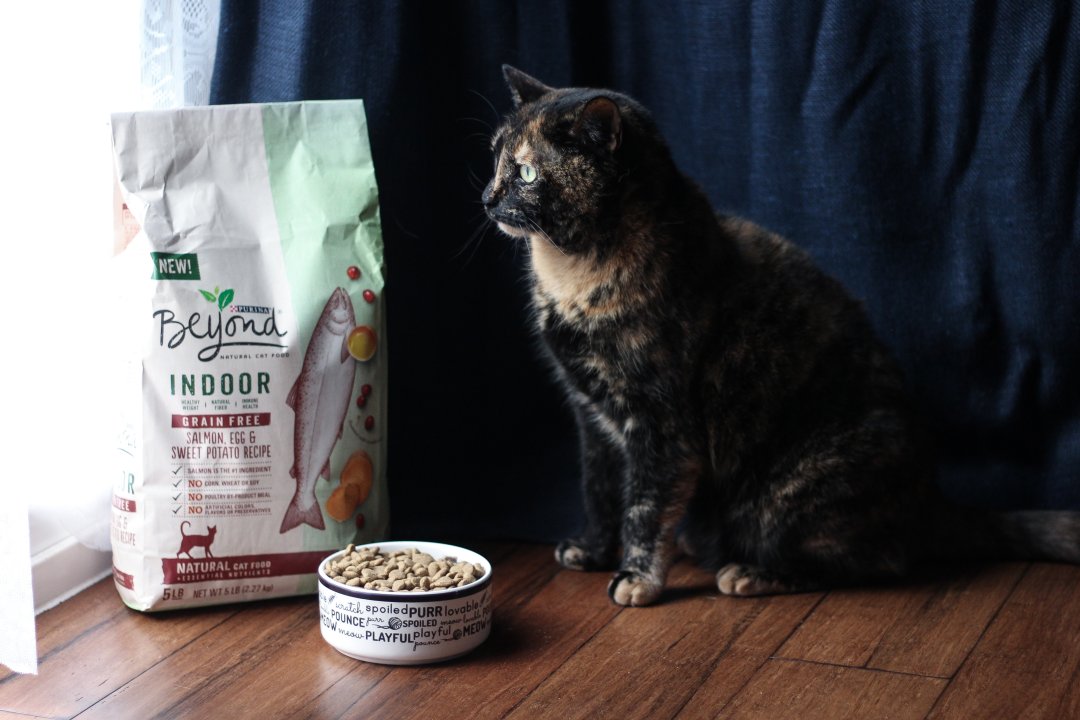 Now, as for my pointers in the baby-prep phase. Some are meant to help Mom and Dad be ready for the sweetness they're about to get a heavy dose of. Some… some are more about the (not-so-pleasant) reality of it all. I mean, someone's got to let them know what they're in for, right? If not me, then who?
One. A personal favorite, interrupt their time on the porcelain throne. I've heard peace and quiet goes out the door with the addition of a human child, and word on the streets is that little bit of time can be sacred. I've mastered the art of opening shut bathroom doors to make sure I weasel my way into that time as well.
Two: Become a shadow. For starters, I want to make sure Mom doesn't forget about me when the new baby comes. But I also want her prepared to have someone by her side every minute of every day. It's not enough just to follow her room to room, I also have to take every opportunity to sit on her when there. I've loved having her work in the nursery so much, it's all new territory for me to explore!
Three: Leave little "presents" (hairballs) throughout the house. I don't think my humans know what's coming for them in terms of bodily functions. I'm just trying to get them ready for that by being a little messier than normal. On the freshly vacuumed rug? Great! On top of the sheets or comforter? Even better.
Four: Encourage them to be healthy in all aspects of their life, starting with their cat or dog food! Now that all the food my mom eats goes to her baby as well, goodness knows she doesn't want to be eating anything that she doesn't actually know whats in it! Purina® Beyond makes it easy for her to start with my food: real fish or poultry is the number one ingredient in the dry and pate food, and contain no artificial flavors, colors, or preservatives. Purina® provides complete and balanced diets, perfect for my girlish figure;), including Protein, Grain-Free, and Natural. My personal favorite flavors are the Grain Free, Salmon, Egg & Sweet Potato Dry Food and Natural, Grain Free, Cod, Herring & Spinach wet food!
Five: Don't forget the trail of food around your bowl after each meal. I know, I know, you can't bear to waste any of that Purina® Beyond Cat Food, especially with the natural ingredients and essential nutrients you're getting… just think of it as saving it for later! Messiness is a surefire sign of a baby – they need to be prepared for that!
Six. Wake them up in the middle of the night. I like to combine six and seven and wake Mom up by strategically placing myself somewhere slightly inconvenient. Sometimes I just leave a present in the litter box to wake them up. I've also been known to wail a bit, or scratch at a door. All are successful in those late night wake-ups.
Seven: Get in ALL the snuggles. Mom and Dad probably don't realize how fast that snuggle period is going to fly by. I like to really make my presence known by sleeping on my mom's stomach or shoulder or neck. I figured, if the baby's about to stake claim to that area, I want my turn now! I also get to be closer to the baby now, and while I might pretend to hold a grudge against her once she's born, I secretly love her already.
And last but certainly not least is eight: show your humans unconditional love. We cats are the best at that preferential treatment for our owners – we often show them a side of ourselves that no one else gets to see. Babies and little kids will be like that, too. My mom and dad will know their little girl better than anyone, except for maybe me. And they get to see this side all because deep down inside, I love them more than anything, just like how they love me. I might be feisty and try to pretend like I don't sometimes… but that's just me preparing them for the future teenage years;).
Long story short, just acting like a regular cat seems to help them prepare for a baby. One of the easiest yet truly worthwhile changes would be simply switching up that cat food to the Purina® Beyond options.
My mom always comes back from PetSmart smelling like other animals, and I'm not quite sure how I feel about that. She also always seems to want a dog after visiting there… something about their friendliness to animals and all the supposedly "cute" ones she sees. As long as she brings me my Purina®, I guess I'm ok with it! You can see the massive selection they have for Purina® Beyond products below, and that's just the Purina® Beyond line you see! I heard PetSmart also has sales on other Purina® cat and dog foods, lucky you!
Want to see other cute pet stories from owners who believe their pets are worth it, like mine? Head here to check it out! And be sure to pin the image below so that other pets can follow suit, helping their humans be ready for that squishy little one headed their way! I've heard humans find articles like this pretty interesting, too:)
SaveSaveSaveSaveSaveSaveSaveSave
SaveSave
SaveSave